Introduction.
From a new aesthetic to memorable values, Daeco HR recently underwent a full refresh and rebrand, bringing to the forefront what we strive to do every day for those in need of human resources services. Although our website might look a little different, the team at Daeco HR is, as always, invested in helping you do what you do best. So, to talk about our values, we're excited to share with you what the ABCs of Daeco HR mean to each member of our team. This month, we sat down to discuss what the ABCs of Daeco HR mean to founder and partner, Elizabeth Disman.
Our values at Daeco are:
A – Authenticity
B – Boldness
C- Connection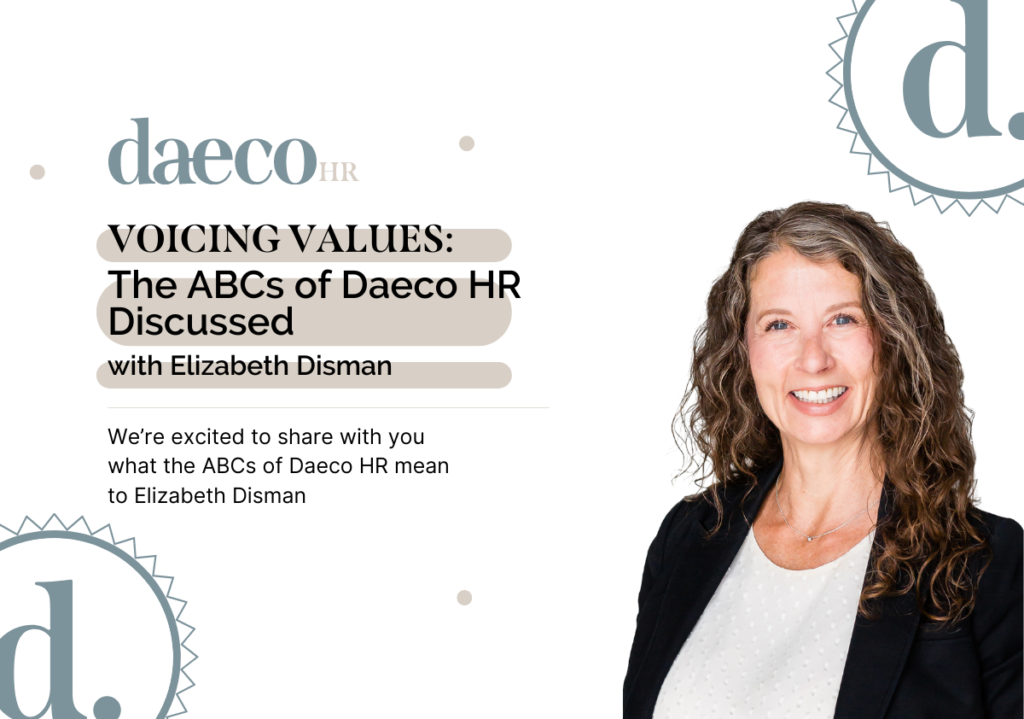 Discussing Values.
We once thought of ourselves as the black sheep of HR and although we still do, we felt as though we needed a way to be true to today's culture and respect where diversity and inclusion is leading us. We are helping people do what they do best, we are striving to support our clients from a human resources perspective and taking care to provide those tools and systems needed to help them focus on what it is that they do best. They can do what they do best when we work with them on what we do best – HR!
We often do values work with our clients and leadership teams. When it comes to establishing values within your organization if your employees can't remember them, they become ineffective. We found that this was the case within our own organization at Daeco. Although our previous values were meaningful, something was just getting lost in the big picture. There wasn't much conversation about those values, and they simply weren't getting the attention that they really should have been getting.

So, as we went back to the drawing board with our rebranding and reevaluation of values, we asked ourselves: How can we get down to the brass tacks of what's important to us at Daeco? How can we put something together that's meaningful? As a result, we came up with the ABCs of Daeco. Authenticity. Boldness. Connection. That's what it's all about. Those values are representative of how our consultants do their work, along with what's truly important to us, who we are, and who we like to work with. What authenticity, boldness and connection mean to me is nicely summarized in a YouTube video that I had come across some time ago. The video is about the rehearsal and greenlighting of the musical The Greatest Showman.. Every time I watch these rehearsal videos, I am so moved. They really pull in all three of Daeco's values for me – let me explain why.
This first video starts with Michael Gracey, Director and Keala Settle, who stars in the movie and sings "This is Me" in the movie. She is talking about how nerve-wracking it was for her to sing this song in the beginning. When the video transitions to behind-the-scenes footage of the rehearsal of this tune, you can see that she is timid, she is nervous and overall unsure of herself being in this room with numerous Hollywood superstars. But once she starts singing, a wave of confidence seems to come over her. She boldly steps out from behind her music stand, and proverbial comfort zone, and it's almost as if she's thinking: "I CAN do this, I CAN be confident in who I am.". This display of confidence becomes contagious to the other singers and truly illuminates the room.
Towards the end of the video, you can see all of the backup singers just rocking with her, and showing their own authenticity through simply being themselves and giving it their all, all while connecting with her through the performance on a level that she didn't think would occur when she first started to sing the song. Because of the boldness that the singer brought to the performance, showing her authenticity, she brought a connection between her and the other performers and they all achieved something that they wouldn't have otherwise. It's so simple but so powerful.
When the sharpest words wanna cut me down

I'm gonna send a flood, gonna drown them out

I am brave, I am bruised

I am who I'm meant to be

This is me

Look out 'cause here I come

And I'm marchin' on to the beat I drum

I'm not scared to be seen, I make no apologies

This is me

Lyrics to This Is Me
To follow up that thought, there's another behind-the-scenes rehearsal video from The Greatest Showman, but this time it's Hugh Jackman in the hot seat. According to the video, Hugh wasn't supposed to sing. He recently had skin surgery on his nose, and his doctor told him that he wasn't allowed to sing. So, in the video, you can see he is standing behind his music stand in the green room, and the other performers are all there singing along to his parts. Then something happens, and Hugh just can't help himself anymore. He begins belting out his parts and that boldness, once again, becomes contagious in the room. Another powerful video – showing what authenticity, boldness and connection can do!
At Daeco HR, you can count on us to be intentional in being authentic, bold and creating connection every day. And it's not just within our team. It's the connection we have with our clients, and it's also the connection we have in our families, and our communities. I like to think that when we can show up being authentic and bold at work, we can show up like that everywhere. It's just a microcosm of how the world needs to be out there. And that creates connection.
The Real World ABCs.
In the past, I often worried that people wouldn't like me if I was authentic and bold. I remember right at the beginning of my consulting career, I was in my late 20s working for a company of around 60 people. I recall a time when I was sitting in a meeting with the leadership team. In this meeting, we were discussing implementing a performance management system for the first time in the company, and the vice president of finance put forward a document he had gotten from his wife, who worked for a large oil and gas company. He thought it would be a good idea to use this complex, intricate performance management document. At this time, I knew that this company needed to start simply; they needed to slowly build a culture of performance where maybe eventually they could use the process outlined in the document he brought.. I knew that, for now, they didn't have the maturity that this large oil and gas company had and if we implemented this, it would not be implemented and it would fail -= we needed to start small.
I have been told that I will say things that other people won't say…well, you could say that was the case in this situation. I told them I didn't think this was the way to go. I felt like I needed to be bold and authentic and explain that we needed to start small and simple. I recall telling them that I thought this document was a great example of where we can take their company, but it would be 5-10 years away, and that we needed to take things one step at a time. We have seen over the years that when we introduce a complex system such as this that it doesn't work the way we want.
I initially feared that being this forthcoming about the matter was going to be the end of my time with this company. But to my surprise, they were receptive to what I had to say. Through making that connection with this leadership team, being authentic and boldly speaking out, we were able to work together to create a performance management system for them that worked for a company of their size.
As a consultant, it's not my job to just say yes because it's the easy or quick thing…it's my job to listen and brainstorm and work together with organization to come up with a customized solution that works the best for them.
The Daeco Mission.
Doing great work comes down to connecting with your values. Daeco HR's new and refreshed values are Authenticity, Boldness and Connection, so with our rebrand, we needed to really drive home the integrity of what each of those values mean, and make sure that they're memorable for everyone involved.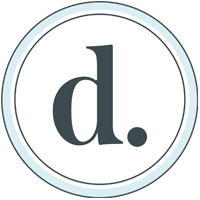 Conclusion.
By showing up authentically and boldly every day, we believe that true connections can be made within an organization. Through these connections, great work can be accomplished. At Daeco HR, our goal is to help you do what you do best by providing reliable and effective human resources solutions to organizations within Alberta. Get in touch with one of our experts today to start your HR journey. www.daecohrconsulting.com