Cindy – Voicing the Values.
In today's workplace culture, there seems to be an unwritten rule that you need to leave your personal life on the doorstep. At Daeco HR, our perspective is quite different. Our partners promote the idea of bringing your whole self to work; they value the fact that you have many roles, commitments, and interests outside of the workplace, which contributes to the unique individual that you are.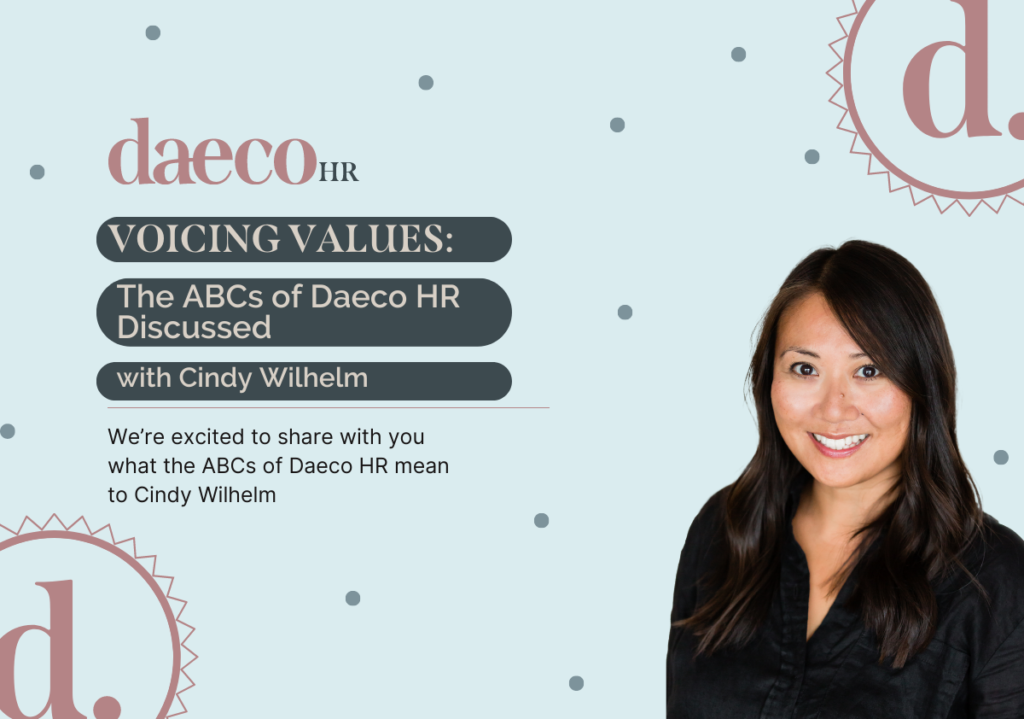 Personal Experiences Empower Us.
There is an opportunity to build upon our triumphs and challenges, to take what we have learned and project them into our professional lives. After all, human resources are about making connections with people, and as people, we all experience challenges and share similar needs and desires.
Are We the Right Fit For You?
At Daeco HR, we work as a team, but we each have complete autonomy over the clients we choose to work with and the type of work we do. We don't focus on the numbers or how many clients we have. We take on projects because we connect with the client and know we can bring value to their work. By being selective, we can focus on what we do best and match our talents to our client's needs.
Making the Connection.
We aim to build and nurture our relationship with each client. We want to understand your business, but most importantly, we want to connect with the person behind the organization. Who you are and what you do are intimately connected, and it is only possible to reach the next level after understanding the two.
Experience has taught me that I am more likely to succeed when a client and I match synergistically. Therefore, I choose to work with clients when I feel a positive connection with them; this has led me to focus my client base on entrepreneurs who embody similar values to that of Daeco HR, as I am able to align and connect with their drive and ambition.
A Supportive Alliance To Promote Success.
Authenticity is a key trait that we bring into every aspect of our work; this begins with being as open and honest with our clients as we are with ourselves.
We are a supportive partner for your organization and we aim to give you unbiased, logical advice to address your needs directly. We are not afraid to be bold and tell you what we think. As external HR consultants, we offer a unique perspective that allows us to see a situation differently. We focus on understanding your pain points and providing optimal solutions to your problems.
Enhancing the Connection Between Leadership and Employees.
During transition periods, organizations may become divided and experience the "us" versus "them" dilemma. Employees may feel like something is being done to them because they don't understand the more significant decisions that may have contributed to the change.
We offer practical knowledge to bridge the gap and support the entire organization. Our sole purpose is to provide solutions that are in the best interests of your organization.
Build a Corporate Culture That Inspires.
People value an organization that appreciates who they are and actively seeks to promote their well-being. We offer support and advice on how best to motivate your workforce. This includes building a corporate culture that embraces inclusivity, respect, and employee appreciation. After all, your employees are your greatest asset, so taking care of their needs benefits you in the long run.
Mental Wellness: The Key to Enhanced Productivity in the Workplace.
In recent years, organizations have introduced wellness programs to help employees struggling with personal and professional concerns. Many of these programs consist of phone helplines, but I believe these programs don't go far enough to address the problem.

As part of my commitment to promoting mental health in the workplace, I am currently working on my Master's degree in Counselling Psychology. I plan to use my training to help our clients address psychological safety, implement employee wellness programs along with offering workplace counselling services to their organizations.
The Way Forward.
It all goes back to the idea of bringing your whole self to work and appreciating that people thrive in an environment where they are seen and heard. That is what we value and promote at Daeco HR.
I love my role at Daeco HR. I am supported and empowered by a group of women who promote authenticity in our workplace, allowing me to give my clients the very best of myself.

Our passion for what we do is the foundation of who we are, and it empowers us to support you in your journey towards greater success. If you are looking for an HR partner to get to the next level in your organization, we would love to connect with you.
---
HR Solutions for Organizations in Alberta.
By connecting with people on a deeper level, our skilled consultants at Daeco HR believe that great work can be accomplished by fostering great relationships within an organization. Through this connection, Daeco HRs goal of helping Alberta's business owners do what they do best can make a memorable impact with outstanding results. Get in touch with one of our consultants today to take the next step in your HR journey. www.daecohrconsulting.com